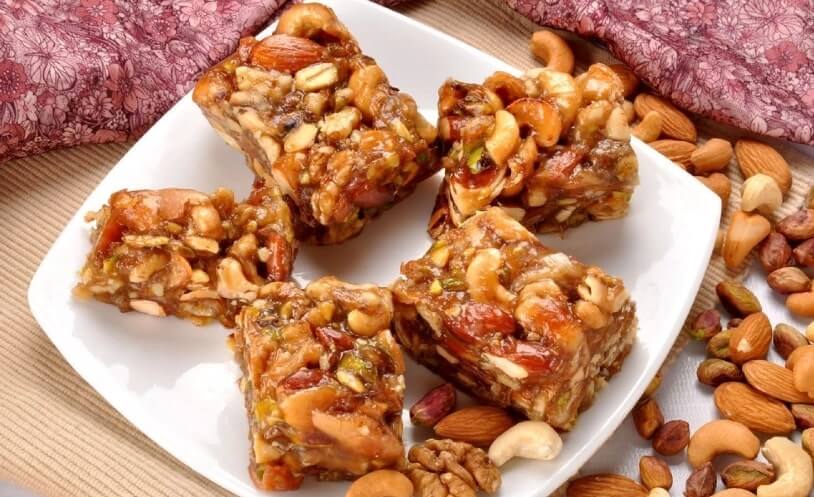 As we near the end of 2016, celebrations, fireworks and good times make you smile and rekindle the fresh spirit for 2017. This New Year's Eve, pledge for a healthier tomorrow. Try these three simple dry fruit sweet recipes that offer a mouth-watering respite to your taste buds.
Dry Fruit Barfi
Use a small square tin and spread in it some greaseproof paper. Add some ghee over it. Boil the figs in hot water for 5 minutes and drain them. Use a blender for a paste-like consistency. Take a frying pan and placing it on a medium flame, add ghee to it along with the figs.
Keep stirring and cooking for 5 to 10 minutes following which you can turn off the gas. Let this puree cool for a bit and then add some dates, almonds, cashews, and pistachios. Next, mix a little cardamom powder for a sweeter taste and enchanting aroma.
Put this entire mixture into the pan and press the surface flat with a wooden spoon. Leave it in the refrigerator for 10 minutes. Once ready, use different shape tools to cut into delicious barfis or simply roll them into laddus.
Ingredients
300 grams dried anjir
125 grams finely chopped khajur
40 grams chopped premium pistachios
50 grams chopped cashews
4 green cardamom sticks and powdered seeds
1 tablespoon ghee
Creamy Chocolate Walnut Spread
This simple chocolate walnut puree can be easily made by melting chocolate in a pan along with butter using low heat and cocoa powder. After mixing, you can add condensed milk slowly by stirring alongside. Until the mixture becomes thick and paste-like, continue cooking. Finish by adding walnuts to the spread and mix well. Store in a colourful jar and refrigerate.
Ingredients
400 grams condensed milk
1 tablespoon butter
4 tablespoons cocoa powder
½ a cup walnuts (akhrot)
50 grams chopped milky white chocolate
Nutty Apples
Take the butter, flour, baking powder, cinnamon powder, and condensed milk along with some milk and mix well. Stir this melange with nuts and apples until a layer of the batter covers the chunk. Next, spread this mix evenly on a pre-greased baking dish.
Mix some sugar, flour, and chilled butter to make some delicious topping. Sprinkle some of this scrumptious topping over the apple mixture and leave to bake for 30 minutes until it turns gold brown. Bite into this delectable crunchy meal as you serve it hot or cold.
Ingredients
3 peeled apples cubed
¾ cup milk
50 grams butter (melted)
40 grams flour
1 ½ teaspoon baking powder
½ teaspoon cinnamon powder
1 cup chopped walnuts (akhrot)
1 cup almonds
2 tablespoons sugar
2 tablespoons butter
2 tablespoons flour
200 grams condensed milk