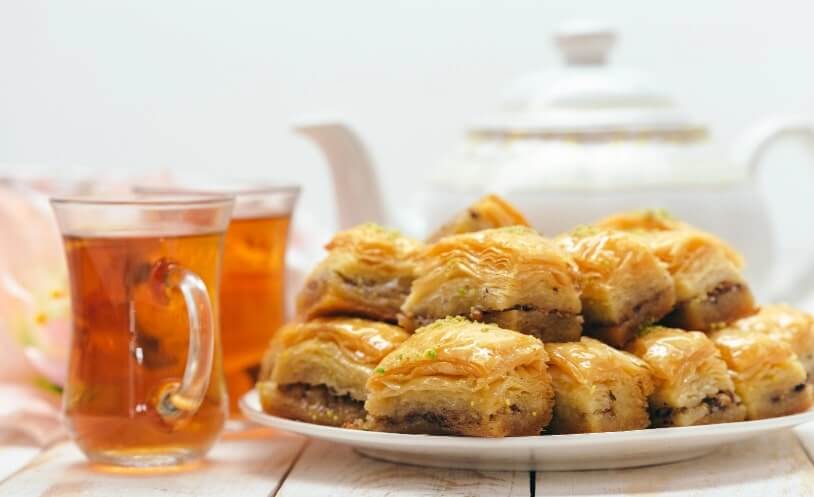 There is something fascinating about every place as you roll the imaginary axis of your table top map. Variety is the very base of human existence and different cultures, traditions and beliefs are a testimony to the beauty of having so much to discover.
Then of course, everyone adores desserts. The feeling of having sweet bits of bliss linger on your taste buds spreading an ecstatic kind of peace is priceless. Indeed, food can be an art by itself. Mapping across the troughs and edges of earth's magnificent possessions, here are 5 different kinds of sweets from around the world known for their uniqueness and taste.
Baklava
Originating from Turkey, baklava is a delicious crunchy sweet dish believed to be made by the Assyrians in 8th century BC. Refined by inhabitants of the Ottoman Empire, the paper-thin phyllo dough is infused with grated nuts dipped in a special syrup. This syrup consists of rose water and cardamom or honey. Spreading across to the surrounding regions, the dish has undergone several modifications.
Galette Des Rois
This French delicacy when translated implies 'King's Cake'. Made frequently during the month of Christmas and New Year, it is widely sold in the sweet city of romance. Multiple layers of smooth buttery puffs sprinkled with sugar and covered with smooth almond cream evoke the foodie in you. Toasted to perfection, this one is a definite must-try when in Paris.
Mawa Cake
The Mawa Cake is an ultimate delight for every foodie in India. Savoured as a tea time snack by many chai enthusiasts, this cake is made simply out of milk infused with cardamom. To make for a crunchier bite, grated almonds and cashews are sprinkled on top. Typical in most quaint Irani cafes in Mumbai, this delicacy has lasted culinary development and generations.
Vetkoek
These fat cakes are one of the local sweets in South Africa which were first made around 1800. Made up of cake dough moulded into small balls deep fried in oil, the sweet taste of raisins and black currants pervades a foodie's desires like no other. When eaten with the traditional syrup, sugar or honey, the pastry goes very well as a light snack.
Turrón
An exquisite find in the splendid landscapes of Spain, this dessert is made in almost every household during Christmas. The tradition continues in the surrounding countries as well. Presenting a mix of sugar, honey, egg whites and toasted almonds, Turrón is a very old concept. It is believed to have drawn inspiration from a Muslim savoury.