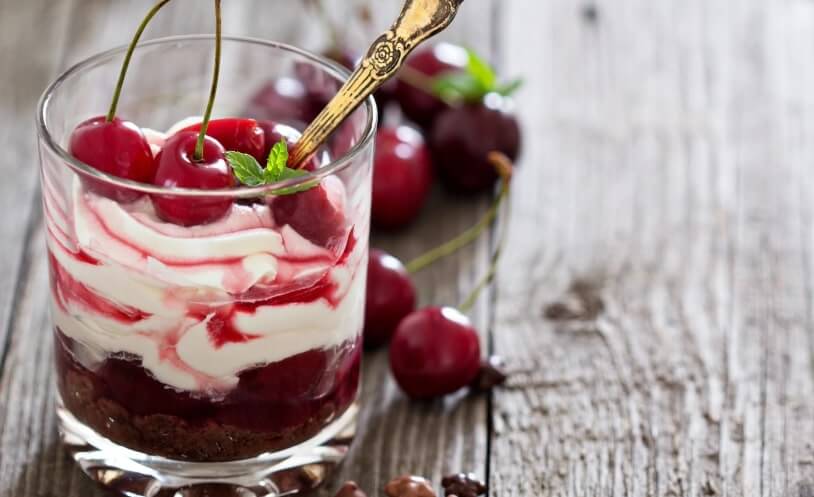 Parfait is a type of cold dessert much like a custard consisting of layers of cream, syrup, fruits, sugar, nuts, granola, and other ingredients. Parfait is a popular dessert in America and France and is superbly delicious. Anyone can make this dessert at home with a little patience and a few easily available ingredients.
Granola contains nuts, oats, puffed rice and is toasted and crispy. Crunchy and chewy granola would add a delightful taste to this dairy-free parfait.
In your parfait, you can add fresh fruits like strawberries, oranges, apples, or bananas. Also, you can add dry fruits like dates, currants, and raisins.
Parfait is a dessert containing multiple, nutritious ingredients and you can easily make your own version of dairy-free, sumptuous parfait at home.
Ingredients
You can make this delicious, dairy-free hazelnut granola parfait using the following ingredients:
Regular, rolled oats- 3 and 1/2 cups
Vanilla extract- half tablespoon [optional]
Hazelnuts- [toasted, chopped, skins removed]- 1 cup
Wheat bran- half cup
Ground cinnamon- half teaspoon
Salt- half teaspoon
Chopped dry fruits [raisins, cranberries, etc.]- 1 cup
Chopped fresh fruits of your choice- 1 and 1/2 cups
Vegetable oil- 1 tablespoon
Sugar- half cup
The Method
A big, baking sheet should be lined with parchment paper. The oven should be preheated to 300F.
Combine oats and hazelnuts in a big bowl.
Mix sugar, oil, salt, and vanilla in a pan. Heat this mixture over medium flame till it is smooth.
Pour this prepared mixture over the dry ingredients in the bowl and stir to mix all evenly.
Spread out the granola on the baking sheet evenly to form a layer.
Bake for twenty minutes. Remove this from the oven and flip over to cook the other side of the granola. Bake for 15 minutes more, stirring frequently.
Take this out and cool it.
Crush the granola mix roughly in a bowl. Add chopped dry fruits to this. Stir to mix well.
Take a few parfait glasses. In each of the glasses. In each of the glasses, layer with three tablespoons of any dairy-free yoghurt and half cup granola mix in alternate layers.
Garnish with fresh fruit slices such as oranges, cranberries, or strawberries. You can also add small chocolate chips on top.
Dairy-free yoghurt of various flavours are easily available in stores. You can also make your own dairy-free yoghurt at home from non-dairy milk like almond milk or coconut milk.