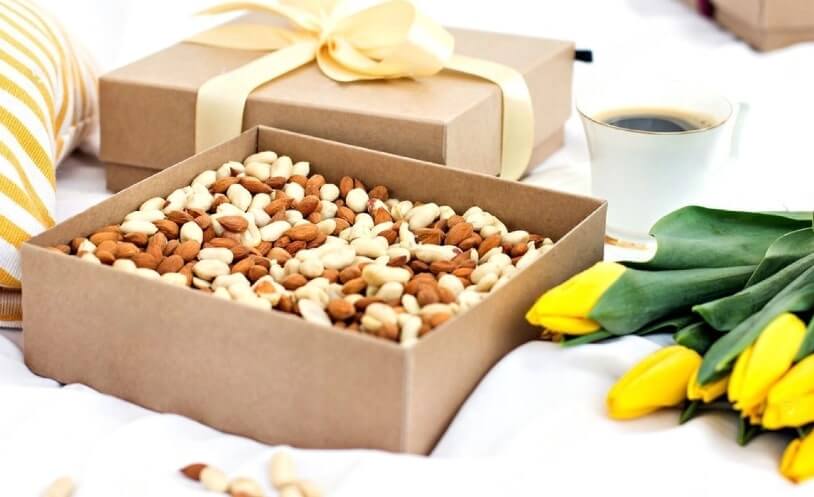 Sustaining the image of a firm and its offerings is no easy task. Just like your personality determines how you conduct yourself in a crowd, your brand image reflects your reliability and relevance in the market. Corporate gifting aids you in periodically reminding your stakeholders, customers, and employees that you care for them.
Walnuts
Acknowledging their contributions shall not just make them feel valuable and responsible for your growth but also instil cohesion in your brand image. Investing smartly in the practice of corporate gifting helps build professional relationships which thrive on trust and enthusiasm.
Why you should adopt corporate gifting? For Employees
Internal gifting helps to keep your employees happy and makes them feel connected to their work better. Encouraging the driving force of your company with annual or monthly appreciation can help increase productivity. Looking at the star achiever, fellow employees are inspired to work further.
For Stakeholders and Clients
Reaching out those who invest in your business regularly on special occasions helps them feel connected to your values. This in turn breeds responsibility in them which makes them stay loyal. Gifting your clients makes them take pride in their decision of choosing you and makes you their first choice in the future too.
For Consumers
Stalling up at an exhibition with freebies to attract consumers is a sure shot way to get your corporate image right. This entitles customers to consider your product and carry a part of it with them, in turn heightening sales.
What are some corporate gifting ideas?
Instead of gifting material things, something healthy and crunchy sure makes for a delightful gift. Use these simple ideas to express your gratitude to those who matter.
Customized Dry Fruit Baskets
Our gift-wrapped dry fruit baskets are a perfect choice for every festive occasion. Wrapped and organised in creative and convenient boxes, these baskets are perfect to gift your stakeholders. They can also be customized with your logo and name.
Chocolate Arrangements
Everyone loves chocolate regardless of experience or age. The nutty and crunchy outer shell unfolding a creamier escapade with every bite is what Ferrero Rocher is all about. Gift a delectable experience to your employees and make them enjoy the sweet fruits of labour.
Fruity Biscuits
Our corn with biscuits speciality is a great buy to give as a small token to your customers at an exhibition or as a trial pack.